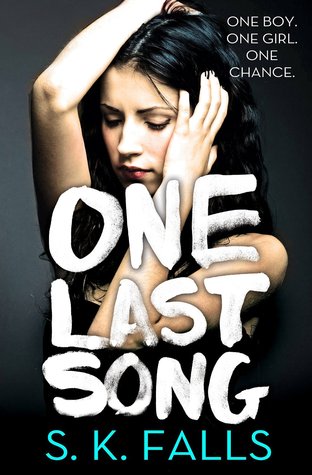 One Last Song
by S.K. Falls.
Audience/Genre: New Adult Contemporary Romance.
Publication: January 13th 2015 by Forever (Grand Central Publishing)

I was seven when I swallowed my first needle.

My mom freaked out and rushed me to the emergency room.

She stayed by my side all night.

I never wanted it to end.

When you spend your whole life feeling invisible-when your parents care more about deals and deadlines than they do about you-you find ways of making people take notice. Little things at first. Then bigger. It's scary how fast it grows. Then one day something happens that makes you want to stop. To get better. To be better. And for the first time, you understand what it's like to feel whole, happy . . . loved. For the first time, you love someone back.

For me, that someone was Drew.
Reviewed by Kelly.
To be honest, I wanted to ditch the book in the beginning. I didn't like Saylor. But I knew that I had to hear her story to see if Saylor Grayson was redeemable. . The story is mesmerizing and I had so many emotions running through me. When towards the end, I found myself crying, I was glad I didn't ditch Saylor's story.
Saylor has Munchausen's Syndrome. That is why she swallowed the needle at seven years old. She craves the attention it brings when she is sick. Then she learns ways to make herself sick just to get her mom to notice her. She doesn't want to die, just craves the disease process and the attention. There is a lot to learn about this disorder. Her mom barely pays attention to her. She is always making doll houses and sipping her tea in their huge home. Her dad is a criminal lawyer and is constantly on the road. Neither seems to make time for their only child.
When Saylor's psychiatrist has her volunteering at the hospital, Saylor is excited to be near medical books and things to make her sick. What she ends up doing is set up and break down the rooms used for meetings. One day she meets Drew there while setting up his meeting for TIDD's (Terminal Illness Degenerative Diseases) and just says she has MS but doesn't correct them when they believe she has Multiple Sclerosis. These people are near Saylor's age and they are all dying of something.
As Saylor gets to know them, she learns to be a friend and care for others besides herself. She falls for Drew and Drew falls for her. As time goes on, Saylor doesn't know how to come clean with them. Her lies are too deep now.
Her friends are amazing people and each of them have different thoughts on death and dying. And they just keep going because they don't want to be pitied or stared at. I learned about Drew's disease that I never heard of before. They talk about assisted suicide too. There isn't a moment where something isn't keeping your attention or wanting to understand death, dying, or thoughts on it from those facing it.
I can't say much more because it is all interaction and I can't judge the book because I was more learning and feeling. I was rooting for Saylor and Drew's romance. It was a difficult one and one where you knew things would be bad when the truth comes out. I have to give Saylor credit for all she did for the new friends she made. She was never selfish with them.
This book will make you happy, sad, sorrowful, teary, and mad and give you reason to rejoice with a little bit of happiness in the gloomy setting of this book.
Ugh, you just have to read it if you like stories of death, mysterious diseases, psychiatry, forgiveness, stories of growth and coming of age, family, a little bit of romance, songs and overcoming anything!
S.K. Falls likes to believe a degree in psychology qualifies her to emotionally torture her characters in an authentic fashion. Her books have won the gold medal in the 2014 IPPY awards, been featured on USA Today's book blog, and regularly appear on Amazon's various bestselling lists. When she isn't writing her twisted love stories, she can be found gallivanting around Charleston, SC with her family.

Goodreads | Amazon | The Book Depository
Goodreads | Website | Twitter | Facebook