Follow the Whole Tour HERE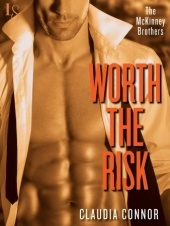 Worth the Risk (The McKinney Brothers #2)
by Claudia Connor.
Audience/Genre: Contemporary Romance.
Publication: February 3rd 2015 by Loveswept.
When a McKinney brother falls in love, powerful emotion and overwhelming desire are never far behind.

Two hearts locked away . . . Hannah Walker spends her days coaching children through injury and trauma, one therapeutic horseback ride at a time. She knows all too well how violence can change a child and leave scars that never heal. It's easy for her to relate to the kids; what isn't easy is the thought of facing her own harrowing past.

Millionaire playboy Stephen McKinney could use a little coaching himself. Five years ago he encountered his most horrible nightmare—and the nightmare won. No matter what he achieves, nothing can make up for that awful night . . . or so he believes.

Both desperate for a second chance . . . Stephen is used to getting what he wants. And he wants Hannah. So when she turns him down, he's intrigued. What he doesn't know is that her secrets will lead him to a place he never wanted to go again . . . to a side of himself he's tried to forget . . . a side that would scare Hannah away from ever loving him. Now his only chance to win her trust is to bare his soul, risking everything he tried so hard to protect.

Includes a special message from the editor, as well as an excerpt from another Loveswept title.
Reviewed by Kelly.
I have to say I love stories with big families and all the drama that goes with it. The love shown with the snotty nose children in the family running around and the parents or single adults in it trying to overcome something is just an aspect that makes this book so much more believable and real. This book is just like that. I read Worth the Fall and couldn't wait to get my hands on this one! Both the main characters have large families. Large families also bring a smile or a laugh when the kids do something like running around naked. It always breaks up the monotony of just two individuals and brings in all that encompasses a person.
Stephen lost the love of his life, his fiancée, five years back. She was murdered and Stephen wasn't there to protect her and he was enraged and did something at the trial of the murderers that left him broken and feeling like he had to drown himself in work and women. He is a millionaire now. He has a business partner and a female lawyer that he works closely with along with his large family who he has kept at bay for awhile.
Then we have Hannah. She is so sweet. She is also broken physically and mentally. She had something horrific happen to her when she was fourteen years old. She has never been kissed or been intimate with anyone. She has a Doctor that she works with to help her overcome all that happened to her. But Hannah lives a life of solitude mostly. Her brothers are very protective of her, almost overly protective. Hannah isn't sure anyone would ever want her if they could saw her body.
Freedom Farm was a place where she learned to heal physically and mentally and she has been there and worked there ever since helping children overcome physical obstacles as a physical therapist with horses. When the owner's of the farm die, they didn't leave a will, just a letter stating that they wanted Hannah to have it all. Politics get in the way and Hannah has to fight to keep it. Not that she wants it for herself but to help those children who need it. I loved the kids who were her patients and the cute things they say.
Hannah's dog dies in the beginning of the story and she goes to the grocery store, numb and crying. That's where she meets Stephen. I know, I know, who would think a millionaire would go to the grocery store but there he is. He notices her tears and strikes up a conversation with her and then asks her out. She says no but he persuades her to meet him. He doesn't know if she will show up or not. Hannah goes, mostly to get out of something with her brothers. Stephen recognizes she is weary of men and takes his time getting to know her. I so admired him for this and was rooting for both of them. They both deserved happiness and to me they are exactly what the other needs.
You know how men thing of Sex like every really often. See http://www.bbc.com/future/story/20140... for more on that. Well this book shows Stephen thinking it about that often. He is very attracted to Hannah and the feelings are mutual. But he seems to be able to continue being gentlemen with her and keep reins on to his libido to get her to trust him and he finds himself wanting to protect her. I don't think it was meant to be funny but I found it hilarious every time his thoughts were wayward with her in the beginning. Stephen is the epitome of handsome and chivalrous and sigh and gah, I want one of him please!
Hannah's brothers didn't like Stephen. Stephen is a known playboy and her brothers were afraid he would use her and spit her out and that isn't what she needs. Stephen's family was all about Hannah. They thought she was good for him, after all he actually showed up for his niece's birthday party with Hannah.
Of course, both being broken they both are weary and make mistakes and want to be there for the other but are scared.
Then things started to get going as a mystery about the farm surfaces and things go very wrong and you don't know who did what and will they be able to overcome the obstacles tearing them apart. What he does for her in the end is the ultimate sacrifice and I loved it!
If you like large families with all their drama, overcoming death of loved ones, overcoming physical and mental abuse, healing, and finding love then this is for you.
Now, I hope JT is next!
Stephen McKinney watched her go, enjoying the way she moved in tan riding breeches that hugged her legs before they disappeared into tall, brown leather boots. He smiled, enjoying it a little longer. Golden-blond hair hung in a long, loose braid nearly to her waist. He had a flash of it tangled in his fingers, spread across silk sheets. Beautiful. And gone.
He loosened his tie and opened the top buttons of his dress shirt as he made his way through the express lane.
Still feeling a stab of disappointment, he exited alone. But the sun warmed him and, it seemed, blessed him, with extreme luck, because, as he stashed his items in the tiny trunk of his Porsche, he caught sight of Goldilocks pushing her cart straight toward him.
Grinning, he pretended to search his bags as she made a wide birth around him and stopped at the neighboring car—a black 4Runner that had seen better days. She rearranged some piles in the back, then stashed her groceries, not once looking at him.
While she delivered her cart to the holding pen, he closed his trunk and stepped around to lean against the side. He waited, watched, noting the deliberate way she walked. Tall and lean, though he still had a good six inches on her.
Still several feet away, she slowed, a touch of fight-or-flight in her eyes. She took a few more steps, maintaining a certain distance he felt compelled to close. But he stayed where he was, legs crossed in front of him, effectively blocking her way. "Have dinner with me."
Golden eyes blinked up at him. Not the shade of the gold bars stacked inside the national reserve, more like the dark whiskey he'd drunk too much of not so long ago.
"What?"
"I'm asking you to dinner."
She looked around again, seeming more concerned with the parking lot than with him. "Oh."
Not exactly an answer and not the effect he usually had on women. "Stephen," he said and offered his hand.
She hesitated so long, he thought she might leave him hanging. But finally, and with obvious reluctance, she slipped her small hand into his. He got a little buzz from the slide of her palm against his. He imagined the rest of her would be just as soft. "Your name?"
"Hannah."
"So, Hannah," he said, wanting to tug until she was flat up against him. "Will you please have dinner with me?"
"No." She didn't consider it for even a second and pulled her hand free.
"Ah." He inclined his head toward her bags. "Chips. Beer. You have plans. Another night then." He crossed his arms over his chest. "Give me your number and I'll call you."
"Yes. I mean . . . no."
"Not sure?" Now he was getting somewhere. She rolled her bottom lip between her teeth. If she was playing hard to get, he could play too. And he would win.
"I mean I can't give you my number and yes, I have plans."
She flicked her eyes toward her driver's-side door.
Nervous? It was broad daylight and not like they were standing in a darkened alley, but he straightened, gave her a bit more space. Though there was no way he was about to leave things like this, just watch her drive away. Not when he was dying to touch her, brush back the wayward strands feathering around that gorgeous face.
"Maybe just a drink then. No pressure."
Seconds ticked by and she bit at her lip again, making him think about biting it too. She seemed to weigh her options, possibly deciding which was the better offer. If he'd been interested before, now he was damned intrigued.
"I guess I could meet you somewhere."

a Rafflecopter giveaway
Claudia Connor is a New York Times and USA Today Bestselling author of heartfelt contemporary romance. Claudia attended Auburn University, where she received her undergraduate and masters degrees in early childhood education, and completed her studies in Sawbridgeworth, England. Always a lover of happy endings, she enjoys movies, reading, and travel, but spends most of her time typing out the love stories of the almost real people that live in her head. Claudia lives near Memphis, Tennessee, with her husband and three daughters.
Goodreads | Amazon | The Book Depository
Goodreads | Website | Twitter | Facebook