Follow the Whole Tour HERE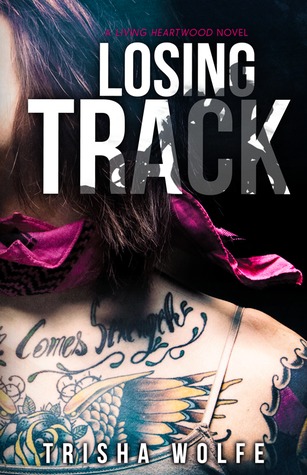 Losing Track (Living Heartwood #2)
by Trisha Wolfe.
Audience/Genre: New Adult, Contemporary Romance.
Publication: October 15th 2014.
Sometimes you have to lose your way before finding the right track.

The roar of a bike engine. The vibration between her thighs. The feel of cool darkness kissing her skin as she coasts along twisty back roads at night—Melody Lachlan lives for these things. Ever since Mel and her best friend Darla escaped their small, backwoods town, they've traveled the countryside in search of fast rides, tatted bikers, and good times.

A self-proclaimed poet and lover of all things free, Mel views her life as one long bike ride—with pit stops along the way to numb the pain. But she never saw herself as a junkie. Party as hard as you ride. That's her motto…until a tragic night steals her soul. Then she's forced to delve below the surface, to where her demons rage.

When she meets recovered drug addict Boone Randall, she's more likely to deck him than kiss his dimple-adorable face. She doesn't want his help; doesn't want to own up to her part in that night. She just wants to do her time and keep her promise to her friend. Yet Boone challenges Mel, and soon she doesn't mind sharing the road. Only when Boone's own secret demons threaten their newfound, fragile security, Mel's course becomes rocky, and she must decide if letting her well-worn track marks fade is worth finding a new path.

Told from Dual point of view from Melody and Boone, this is a New Adult Contemporary Romance intended for readers seventeen years of age and older.
Reviewed by Kelly.
I wanted to read this series after I read the first book, I was addicted. But, I wasn't interested by the cover and the blurb. Then when I started it anyway, I wasn't sure I could keep reading it. It was dark and awful and I have never lived in that world or wanted to. The drug addiction and slang and MC's and bars was way too much for me. The everyday struggle was overwhelming. It was written with so much clarity that I could see and feel it all. It was real and raw. The craving for drugs and what Mel would do to get them was portrayed so vividly. Her struggle in rehab and her desire to do whatever they said to get out and go back to what her life was making me crazy. Anyway, I just wasn't sure I could finish it. I think when an author can write things that make you feel and understand so much it is definitely a book to be read! I trudged on with the hope that Mel would turn her life around.
Then in walks Boone and you knew he was broken and he had a secret that he wasn't sharing. He was torturing himself over his secret. But he was immediately attracted to Melody when he saw her at rehab where he speaks often. Melody was attracted to him too but she wasn't going there and she thought he had an "I can fix you" attitude. I immediately wanted the two together!
If you read the first book "The Darkest Part" you learned about Sam and her analogy with trees and I will forever remember that. Well in the end, Mel goes back to see Sam to talk to her to get her opinion because she didn't know which way to go and Sam uses the analogy with Mel and I cried like a baby!
This book is so emotional that I just can't describe it! It leaves you stripped naked. The two are so similar and yet so different. When you find out what Boone's secret is, oh my gosh, it just tugs your heart strings for him!
I never got why others used; what they sacrifice; what they want in life. Is it really living? Yet Mel feels and she cares and she has guilt. Don't read it if you can't handle the ugly realities of this type of life and their daily struggles before and after rehab. Yet, if you want to read a story of overcoming , finding love and hope , overcoming guilt and forgiving yourself and moving on one day at a time than this story Is for you.
This story is a five deeply utterly overwhelming stars that I can't even write how emotionally it affected me!
"..There's no true one person for any of us, no one special soul mate. We can find different ways with any number of people." She pauses, allowing the silver tree to fall from her fingers. She places a hand atop my thigh. "But, I was meant to love Holden, and he was meant to complete me in a way like no other. After Tyler died, I thought I was like the heartwood of a tree, the dead part. But there's a very special heartwood that's anything but dead-it lives. A living anomaly that flourishes in the midst of so much decay, rot, and ruin. The destruction breaking down the tree doesn't touch this. It fights back and it wins. Even thrives. And the reward is something so striking nature has to stop its hands of time just to acknowledge that one breathless, beautifully stubborn tree."

"Is there any way that in time all this pain and self abuse that both of you inflict on yourselves, the death that has taken so much from your lives, could rebound into a living heartwood?"
Reviewed by Kelly.
I love how the author ties all the books to the analogy of the heartwood. At the end, you will see some of the quotes about the heartwood. It is a strong analogy and has made me cry with each book. It is powerful and shows how we are like the heartwood of a tree. (Find it) Each of the books, which can each be read as a standalone, brings back the heartwood and with it the strength that lies in all of us. This series faces some very hard issues like mental illness, abuse, and anxiety and eating disorders. But with that comes finding happiness and learning to overcome them. None of the stories declares that they are free and clear of their problems at the end of the books. But it shows how they learn and grow from it. These are real powerful lessons and linking them to the heartwood of a tree is brilliant. In fact, I will use that analogy to help others when the need arises and even get a necklace with a heartwood tree on it for them. Because we all need a little boost to give us strength from time to time, much less the issues faced by the characters in this book.
Ari was in rehab in the last book with Melody. Ari has anorexia and bulimia and anxiety. Her father is wealthy and lives the high and proper life style and it's all about appearance. Ari's issues with her disorder have her in a new college so her father can sweep her issues under the rug. Ari is struggling to be someone, anyone, and to be loved unconditionally. She has a weight to maintain in society, she has expectations and even an arranged marriage to live this lifestyle. She feels stuck with no choices; she feels like she is "fading out".
That is where she runs into Ryder, the quarterback, in her new school. They meet in the cafeteria in the lunch line. She is ahead of him in line and eyeing the last piece of carrot cake and he sees that and says it is his. Ari isn't going for that and out of spite asks for the cake and the lunch lady confirms it is in reserve for him. But Ryder gives her a piece of it anyway and is taken by her. But their meetings always end up going south with some bullying from the football team or some biting remarks. Ryder tells her it isn't him doing the pranks. She isn't the type for revenge but ends up one day taking some with her roommate, Vee (whom she has a great friendship with), pregame by taking away their jock straps and replacing them with thongs. It is hilarious what happens next!
Ryder is a really good guy as well as the quarterback. He has a reputation that forged from his past but isn't who he is today but he hasn't really corrected the image. He has some of his own troubled past that he deals with. His family has some real issues too.
The tension between the two is an interesting one. They go from enemies to friends to lovers in a relaxed amount of time. I like that it wasn't rushed. It felt real and you got to know them both a little more first. And the way Ryder treats Ari is so sweet and caring. Yet neither is able to really voice their true feelings because they each have a wrong perception of what their relationship is.
From the beginning, the book pulls you in and makes you want to keep reading on and on until you get to the end and still wanting to have more of their story. I also found having Kleenex nearby helps while reading the last twenty percent of the book!
I could go on and on about the book and characters but if you like stories with analogies, some serious issues (like anorexia, bulimia, and anxiety), learning to stand up for yourself, forgiving yourself, finding someone who loves you unconditionally, figuring out what you want to do with your life, fighting for what you want, stories with words that have you holding on from the beginning, some great pranks, carrot cake, the beach (and sex on the beach), stories that have you crying; then this is for you!
"And it's the imperfections that make you, you. Don't kill off your heartwood- the imperfect, flawed, dark part of you....because even a tree needs its heart to live. Ari. Without it, it would be just a hollow shell."

"That boy is one fine piece of heartwood, let me tell you."
a Rafflecopter giveaway
From an early age, Trisha Wolfe dreamed up fantasy worlds and characters and was accused of talking to herself. Today, she lives in South Carolina with her family and writes full time, using her fantasy worlds as an excuse to continue talking to herself.

Sign up for Trisha Wolfe's newsletter to get updates on future book releases and special sale events: bit.ly/1rXTKI7
Goodreads | Amazon | Amazon Fading Out IThe Book Depository
Goodreads | Website | Twitter | Facebook