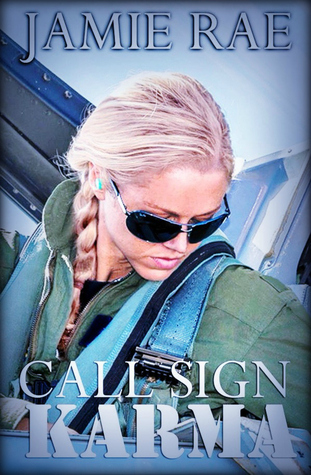 Call Sign Karma
by Jamie Rae.
Audience/Genre: Contemporary Romance, Military.
Publication: January 5th 2015 by Lyrical Press, Kensington Publishing Corp.
Love in the no-fly zone…

Distraught over the loss of her brother in a fighter jet accident, Tinklee Pinkerton decides to follow in his footsteps and prove the tragedy wasn't his fault. But when she's chosen as the first woman to fly the Air Force's F-35, her plan for a life that revolves around work is thrown off course by a handsome, mysterious stranger…

Thanks to Locke's seductive British accent, sweet nature, and one too many beers, Tink is soon inspired to throw caution to the wind and herself into his arms. She thinks maybe love can heal after all—until she discovers Locke is her superior officer. Tink has no problem risking her life in the air, but with everything on the line, is she brave enough to risk her heart on the ground?
Reviewed by Kelly
I love women who can kick butt and also have a feminine side to them. Tinklee is a female pilot and I am awed by that in itself. I also like men who are all business when it needs to be but also will love fiercely! And we got both in this story.
Tinklee Pinkerton has a Military Family. Her dad is out of the military but is now into Politics. Her mom loves her daughter. They all lost Colin, Tinklee's brother, in the same jet that Tinklee is in training for. Tinklee believes that Colin died in the plane for a plane malfunction somewhere. Her dad and everyone else believes it was pilot error. Tinklee is out to find out what happened to him. She has a goal and didn't expect to find love along the way; especially her superior officer. But he ignites something that has been long lost for awhile. She is afraid to feel. She doesn't want to feel. She wants to find answers. Yet, she finds herself cracking and falling deeper.
Tink first meets Locke by kicking his butt, err, head! Well it was more of fumbling and loss of coordination that caused it, but it had me laughing so hard.
Locke is British working in the US Military. He is an excellent officer and has a pompous mother who thinks Tinklee is beneath them and that Locke shouldn't be with the Americans. Locke and Tink need to be secretive if they want to be together. But as time goes on, her unit is tight and they all see it even though TInk and Lock try to hide it. I love her unit, they are all very different and it makes for some interesting moments! I hope I get to see some of the other guys with their books. I really want to see Ash, Stitch, Bodhi and Mojo's stories.
I enjoyed watching how Tink got her call sign. It was perfect. I like how that happens, nope, don't ask me how they do it, you have to read it to find out! I loved watching Locke and all his good-looking and thoughtful self with Tink and then be the officer he also has to be. That would be hard for me not to run up and hug my man and pretend nothing is going on!
The book started a little slow for me. I also do NOT like stories that start off with sex. I don't know them and it makes my stomach sour. But I forged on and then once I got into it I couldn't put it down. I was so mad when I was near the intense action scenes from war mixed with a little bit of doing stuff that could cause jail time for them because they don't leave a man down and I had to go to work. Gah! I wanted to call out sick at work just so I could finish it. I wasn't sure how it would go and my heart was pumping! I had to wait 14 hours to finish it. Yes, I was counting hours till I could finish a book!
So, if you want a book that has you laughing some, crying some (finding out what really happened to Colin), Military stories, kick butt females, British mother's snobbery, pilots, unrequited love, a well written and easy to follow book even with the Military and pilot's jargon, the word "dude", war and intense action, then this might be for you.
I have one question- How do female pilots fly so many hours if they are on their period? Just wondering....
a Rafflecopter giveaway
JAMIE RAE is a New Adult and Young Adult author. She writes with one goal in mind--create stories with a positive message that will stay with the reader long after they've finished reading.

Jamie is an avid reader and loves discovering stories with a great hook, though she will not eat, sleep, or speak until she reaches the end. The Harry Potter years weren't pretty!! Convinced that her Hogwarts letter was lost in the mail, she keeps a watchful eye for owls hoping her children will have better luck!

In her other life, Jamie Rae is an orthodontist, and literary agent. She keeps her heart overflowing with love as a mother of three and has perfected the art of nomadic living as a military spouse and Air Force veteran. Jamie has a passion for critters of all shapes and sizes and you can often find her sneaking them into her own home or volunteering for rescues.
Goodreads | Amazon | B&N
Goodreads | Website | Twitter | Facebook