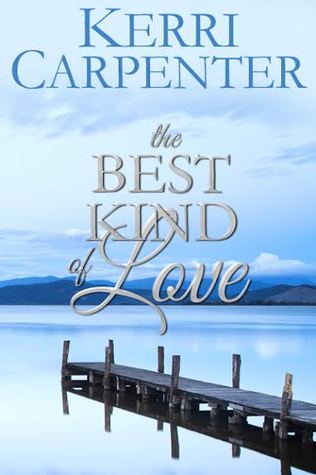 The Best Kind of Love
by Kerri Carpenter.
Audience/Genre: Adult, Contemporary Romance.
Publication: December 8th 2014 by Soul Mate Publishing.
After twelve years away, organized consultant, Penelope Walker, doesn't expect to return to Blue Lake, Virginia. But when her parents unexpectedly die, she returns to her hometown and finds out that general contractor and former love of her life, Ethan Callahan, is back too. Their relationship transcended the typical high school romance and his mere presence is enough to have all those feelings of passion return full force. Only she can't forget that Ethan didn't show up for their secret elopement and left her brokenhearted.

It doesn't take long for Ethan to realize he wants Penelope back, but he knows she won't let go of the past that easily. When she finds out what her parents asked him to do all those years ago, she'll never let him back into her life. Even though he did all of it for her.

Penelope's determined to unravel the mystery of their shared pasts, while Ethan wants nothing more than to move on to their future. If these two former lovers can learn to forgive and forget, will they be able to remember that they had the best kind of love?
He ran a hand down his face. "Penelope, ask me the damn question already. And don't," he said quickly when she opened her mouth, "change the subject. There is something you want to know and you need to ask me."
Damn him anyway. He thought he was so smart, figuring her out. Fine, she'd ask and then she'd show him.
"Ethan, are you seeing anyone at the moment?"
A self-satisfied grin spread over his face and he crossed his arms over a puffed out chest. "No, Penelope, I am not seeing, dating, hooking up with, or having sexual relations with anyone at the moment. The only person I've been kissing is you."
"Go to hell."
"Join me there. You started this one."
"Maybe I did." This time she took the step closer.
"You were jealous."
"You're an idiot."
"I'm a Penelope Walker connoisseur," he said with a smirk.
She shook her head, about to go in for the kill. "You think you know me so damn well, don't you?"
"Pretty much."
"I'm an open book and you know what's on every page?"
"That sums it up."
"Well, you don't know everything."
Before she could talk herself out of it, and definitely before Ethan realized what she intended, she grabbed his face, jerked it down and planted a hot, steamy kiss on his donut-coated lips. She knew the surprise attack worked when she heard the gasp right before the delighted moan.
She assaulted his lips, taking exactly what she wanted. Finally running her hands up and down his sweaty chest and back, she groped and squeezed, loving every second of it. She knew he could barely keep up. They were both panting, but she wanted more.
She bit his bottom lip before lightly blowing on it. He shuddered. Then she parted his lips and found his tongue. He responded to her urgency by bringing his arms around her tightly, causing her to go up on tiptoe. Fine by her, she wanted to touch every inch of him.
But this, she knew, wasn't exactly the right time. Sadly, she dragged herself away from him and then offered a smirk of her own.
"Guess you don't know everything."
The look on his face was priceless, and it delighted her. He was panting, hunched over slightly, and mussed. She loved it. Mission accomplished, she turned and headed back to her own house.
Take that, Ethan Callahan, she thought happily.
a Rafflecopter giveaway
Kerri Carpenter began writing in her grandmother's kitchen at the age of seven in a small town outside of Pittsburgh, PA. A life-long fan of reading, she got lost in the worlds of The Baby-sitters Club and Sweet Valley High. She also assumed that everyone had characters and plots forming in their heads at all times.

Once she turned to romance novels, she couldn't get enough of books with happy endings, so she started writing her own. Now, Kerri writes contemporary romances, usually set in small towns. She enjoys reading, cooking, watching movies, taking Zumba classes, rooting for Pittsburgh sports teams, and anything sparkly. Kerri lives in Northern Virginia with her adorable (and mischievous) poodle mix, Harry.
Goodreads | Amazon | The Book Depository
Goodreads | Website | Twitter | Facebook