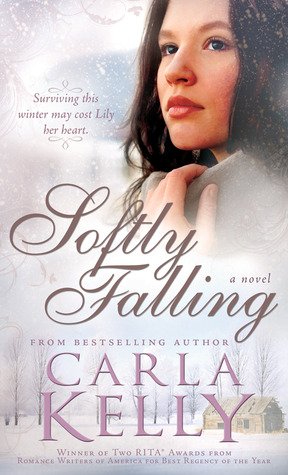 Softly Falling
by Carla Kelly.
Audience/Genre: Historical Fiction, Regency, Romance.
Publication: November 11th 2014 by Cedar Fort Publishing & Media.
Beautiful Lily Branson learns that her wayward father has lost his Wyoming cattle ranch in a card game to handsome cowboy Jack Sinclair, no less! When a series of deadly winter storms sets in, Lily and Jack must work together to save the cattle—as well as their hearts.
Reviewed by Kelly.
Once I started this story, my attention was completely captured by it. This story is of a hard life through a terrible winter on a cattle ranch. Lily is a proper lady. She was raised mostly by her uncle because her father kind of lost it once his beautiful wife from the Caribbean had died and left him with a daughter. He started drinking and making bad decisions. His brother would send him here and there in attempts to put him away with some responsibility. But he continued to fail. He is now on a ranch that supposedly was his. Lily's uncle sends her off to him.
When Lily arrives, she is met by Jack, the man who now owns her father's ranch and who is the main man at the nearby ranch. She is embarrassed to find out her father no longer owns the ranch and is an alcoholic. Jack feels responsible for everyone on the ranch even though the one he works at is not the one he owns. Jack has his mind set on making money on another type of ranching. So while he waits for offspring on his own ranch, he works hard at the other. Jack seems to take a liking to Lily, but would never voice it.
Lily realizes she needs to work and Jack tells her to make a plan. She sees an old abandoned school house and decides to teach the children there. She has no idea how rough it is to live there but is quickly learning. She learns as much from them as they do from her. Then the winter comes early and hard, as Jack had predicted and the owner had refused to believe. Now everyone's lives are in danger.
Lily learns to be resourceful in the first snowstorm she has ever seen and all while she is teaching the children at the school and adapts to keep the children warm and alive until help comes whenever that would be since the snow was so high. They had to dismantle most of the desks and chairs to keep them warm. From there, Lily shows her talents as a leader and a fighter. But she sort of has to be, since she is a woman of color and has learned over the years how to deal with the way people treat her even though she is well educated. Jack wants to protect her and be her champion.
From the first snow of the season in September, the winter gets worse. This is where I became hooked. Every time I had a break, I would interrupt my daughter from her own reading with how horrible the winter in this book was and what they did to survive. I am grateful to live now with modern amenities.
There are so many people and children and loss and so much going on that I can't even begin to tell you. I did find myself liking the characters and wonder what would happen with some people after so much went wrong. The writing was well done and well paced. I really had a hard time stopping it and would pick it up from beside my bed before I even got out of bed. The characters are real and I wanted to reach out and help each one in their struggles. The winter was very long and it didn't seem as though anything would go right and for the most part it was so realistic that I wasn't sure if it would have any happiness at the end. But, sometimes you have to be grateful for what you have and that's what they were grateful for. The romance was a back burner to everything else. This was real life in the time period and it made my heart squeeze for them all!
I have always loved Carla Kelly's books long before I was a blogger. I love the way she weaves a story.
Thanks to Cedar Fort Publishing for a copy in exchange for an honest review!
So, if you like the late 1800's, terrible winters on a ranch, getting by with very little, proper romance that gets a back burner to strong winter advisery conditions, books with diversity, getting an Indian name (I personally would love to see what my name would be), a feral cat, a pack rat, trying to overcome alcoholism, snobby rich people, children who learn how to survive and are respectful, being able to handle death of animals and people, learning to read as an adult, clean reads, and hope for a future than this book might be for you.
An Excerpt...
From the author: 1886. Ranch foreman Jack Sinclair has been asked to pick up Lily Carteret from the railroad depot in Wisner. Lily is the daughter of a remittance man, one of those useless sons of aristocracy sent abroad and paid to stay away. All Jack knows is that Lily is not a typical white English lady.

=====

It couldn't be anyone but Miss Lily Carteret. Clarence Carteret was absolutely right about the cambric tea color of her skin, but that wasn't the first thing Jack noticed. In fact, it was way down his manly list.

Like the other lady, she stood on the top step, looking around, but with a striking difference. She seemed to be assessing her surroundings instead, weighing Wyoming Territory in the balance. He couldn't tell from her expression how the scales tipped.

As he stared at her, he decided it was her eyes that held his attention, even before her shape, which was bounteous without being ostentatious. Her eyes were deep brown. He saw no fear or doubt in them, only interest, as though she was trying to figure out what life planned for her here.

It was impossible to ignore her beauty. Her skin was indeed cambric tea, or that pretentious French phrase Clarence Carteret had tossed about. A bold man could stare at her for some time, wondering if she was English, French, Spanish, or African. Since he knew something about her, he knew she was all of that, and she wore it well.

She helped herself down, since the conductor had turned away. Jack didn't have to gird is loins for this. He knew that meeting Lily Carteret was going to be a pleasure. There had been so little genuine pleasure in his life that he almost didn't recognize the emotion.

Grateful he had visited the barbershop, Jack took off his Stetson and stepped forward. "Miss Lily Carteret?" he asked, also grateful that his voice did not squeak. He was well beyond that particular felony, thank the Almighty.

"That would be I," she said, and he nearly swooned – if men swooned – with the loveliness of her English accent.

He had become familiar with proper English because the Bar Dot was a British consortium, grandiosely titled the Cheyenne Land and Cattle Company. The various owners had visited the ranch through the years, and he liked to listen to them. None of those men sounded as well-bred as Lily Carteret.

"I'm Jack Sinclair, foreman on the Bar Dot," he said, using the ranch's nickname. "Your father asked that I escort you to the ranch."

"And his name is…," she began. Jack silently applauded her circumspection. This was not a woman to be easily gulled by some flat looking at her luggage for her name and taking advantage.

"Clarence Carteret," he answered.

"Bravo," she said and held out her hand.
Although Carla Kelly is well known among her readers as a writer of Regency romance, her main interest (and first writing success) is Western American fiction—more specifically, writing about America's Indian Wars. Although she had sold some of her work before, it was not until Carla began work in the National Park Service as a ranger/historian at Fort Laramie National Historic Site did she get serious about her writing career. (Or as she would be the first to admit, as serious as it gets.)
The mother of five children, Carla has always allowed her kids to earn their keep by appearing in her Regencies, most notably Marian's Christmas Wish, which is peopled by all kinds of relatives. Grown now, the Kelly kids are scattered here and there across the U.S. They continue to provide feedback, furnish fodder for stories and make frantic phone calls home during the holidays for recipes. (Carla Kelly is some cook.)

Carla's husband, Martin, is Director of Theatre at Valley City State University, in Valley City, North Dakota. Carla is currently overworked as a staff writer at the local daily newspaper. She also writes a weekly, award-winning column, "Prairie Lite."
Buy The Book :
Goodreads | Amazon | The Book Depository
Find The Author :
Goodreads | Website | Twitter