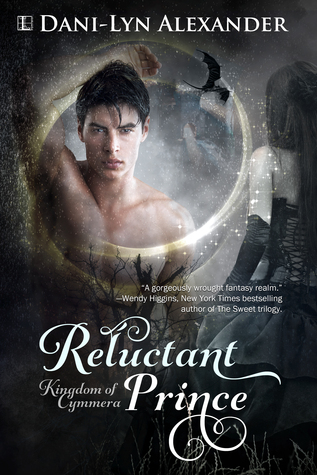 Reluctant Prince (Kingdom of Cymmera #1)
by Dani-Lyn Alexander.
Audience/Genre: Young Adult,Fantasy, Romance.
Publication: November 3rd 2014 by Lyrical Press.
Betrayal lies cloaked in shadow.

Seventeen year old Ryleigh Donnovan is certain her life is cursed. Nothing ever goes smoothly, and her first job interview is no exception. An earthquake rocks the building, sending Ryleigh on a frantic search for her younger sister, a search which lands her in the hospital. Terrified they'll push her for answers she can't afford to give, Ryleigh flees with a mysterious stranger.

Jackson Maynard is about to be ordained as a Death Dealer, a warrior for the Kingdom of Cymmera, but first he must pass one more test. When he fails to acquire the human girl the prophet has chosen, he's forced to stand trial for treason. Banished from his realm, he seeks out the girl from the vision, Ryleigh Donnovan, and together they embark on a journey to save his dying kingdom.
Excerpt...
"I doubt a social worker would show up here at this ridiculous hour of the morning to hassle you about Mia, especially if there was no complaint about child abuse or anything."
"How do you know? You seem to know an awful lot about a world you supposedly don't even live in."
Desperation demanded he act. He shoved it ruthlessly aside. "Death Dealers receive extensive training in and about the human realm."
The door shook. Another snort. A grunt.
"That's one of Daygan's savages out there." He backed up, pushing the girls behind him.
"That's ridiculous. Why would they knock on the door?"
A loud thud hit the door, rocked the house.
Mia whimpered.
"Probably hoping you'd answer it and they could just grab you quietly."
The door splintered under the next blow.
"Run." Jackson shoved both girls into the hallway and turned to follow them.
Rhythmic grunting came from beyond a closed door at the end of the hall. He stopped short, kicking himself. Even without his extra senses he should have realized what Daygan was up to. "Ryleigh, you have to open a portal. They knocked on the door to allow the others to come in the back without us noticing."
The remnants of the front door crashed against the wall.
"Ryleigh." Mia's voice shook. "Do something. Hurry."
Daygan and three of his savages now stood in the living room.
"Well, well, well. If it isn't Jackson Maynard. Imagine meeting you here. Shouldn't you be home learning how to be a soldier, or a king, or a princess, or something?" Daygan's vicious smile held no humor.
Jackson ignored him and turned the girls toward the back of the house.
Two more savages blocked their escape route.
He shoved Mia behind him, caged her between his back and the wall.
Ryleigh stood by his side.
"Any time you're ready, Ryleigh."
"I can't. I don't know what to do." Ryleigh sobbed.
Mia's teeth chattered. "Please, someone, do something."
"Give me the girl, Jackson." Daygan took a step closer.

a Rafflecopter giveaway
Dani-Lyn Alexander lives on Long Island with her husband, three kids and three dogs. She loves spending time with her family, at the beach, the playground, or just about anywhere. In her spare time, which is rare, she enjoys reading and shopping--especially in book stores. Some of her favorite things include; Bernese Mountain Dogs, musicals, bubble baths and soft blankets. She's an incurable insomniac and has an addiction to chocolate.
Buy The Book :
Goodreads | Amazon | The Book Depository
Find The Author :
Goodreads | Website | Twitter