Follow the whole tour HERE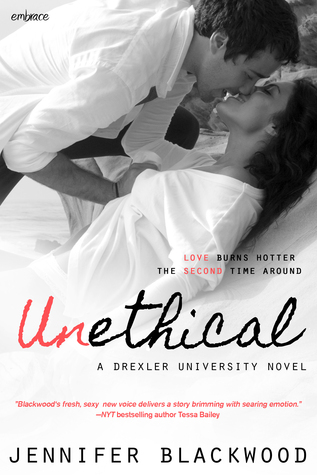 Unethical by Jennifer Blackwood.
Audience/Genre: New Adult, Contemporary Romance.
Publication: October 20th 2014 by Entangled Embrace.
Love burns hotter the second time around…

Two years ago, the medical world was shaken by scandal, and Payton Daniels's family was at the center of it. The second she graduated, Payton left everything behind―her high school sweetheart, her family, and the controversy surrounding her mother's death—and hid within the anonymity of college. But Payton's ex, Blake Hiller, hasn't forgiven her for leaving, and when he enrolls in the same medical ethics class, she panics. She can't run the risk of him telling everyone who she really is.

As if being at the same university isn't enough, both Blake and Payton land the same internship. Forced together, their passion for each other reignites, but when Payton is asked to testify in her father's high-profile trial, she must choose between risking her acceptance into medical school to help her father, and losing every connection to her past—including the only guy she's ever loved.
Reviewed by Kelly.
A bit of fresh air is what I would say about this book. Yes, it is about second chances but the story is unique. Premed isn't in most stories. And the scandal that rocked Payton's world is different. Not many books would touch assisted suicides. Being a nurse myself, I was intrigued to say the least!
Payton's mom was a lawyer, her dad a doctor. Payton's mom died two years ago, she had cancer. Her dad is currently in jail for assisted suicide and awaiting trial. Payton is embarrassed. She changes her last name to her mother's maiden name to avoid further humiliation and recognition. See, Payton wants to be a doctor and she fears rejection of med school if anyone would connect her to her father.
What she didn't plan on was seeing Blake in the same class. He was the love of her life and she felt like he chose someone else over her after graduation. She, of course, doesn't have all the facts. Because Blake still loves her deeply and would do anything to get her back. Even after she ran off the face of the planet when scandal hit her family right after graduation, he still wants her back.
Payton still loves Blake too. Jules is Payton's best friend and roommate. Andrew is a manwhore, but goes after Payton. Blake can't stand Andrew even though they are roommates. Blake wants to protect Payton from him. Then we have Payton's ethics teacher; he wants to destroy her father's name in her class. Payton is cringing.
What I loved about the book is the internal dialog in Blake and Payton's head (we have both POV's), it had me laughing at times and sometimes I wanted to slap Payton to get her to see everything instead of always running and not letting people in. Blake, yes please! That's all I need to say on him!
I also loved the idea of the debate of assisted suicide. It doesn't matter my opinion, it was just a new idea and a very touchy subject. The story flows smoothly. The characters are all believable. Some good and some bad.
Anyway, if you like something new, a little scandal, college, learning to stand up for yourself, second chances, family, and controversial subjects then this story might be for you!
Content: language and sex scenes.
I love Payton's inner turmoil...
I just pretend things were back to normal? Explain why I hadn't contacted him in two years? How come nobody made a study guide for these types of situations? It could be like my MCAT textbook with multiple choice questions.
1. If subject X is visiting subject Y in jail for the first time in two years, what is the appropriate dialogue?
A. "Yo, daddio, long time no see. What's shakin'?
B. "I hate you for leaving me to fend for myself when I needed you the most."
C. "Orange is your color."
D. "I missed you so much. I love you." D. Definitely D. "I missed you."
Join the Facebook Party taking place on October 22nd with some great authors and awesome prizes
a Rafflecopter giveaway
Jennifer Blackwood is an English teacher and New Adult author. She lives in Oregon with her husband, son, and poorly behaved black lab puppy. When she isn't writing or teaching, she's binging on Veronica Mars episodes and white cheddar popcorn. Her debut novel, UNETHICAL, comes out October 20th from Entangled Embrace.
Buy The Book :
Goodreads | Amazon | The Book Depository
Find The Author :
Goodreads | Website | Twitter