Someday Maybe (Definitely Maybe #2)
by Ophelia London.
Audience/Genre: New Adult, Contemporary Romance.
Publication: October 20th 2014 by Entangled: Embrace.
Some guys are impossible to forget.

Rachel Daughtry has a 10-year plan that leaves no room for mistakes. Or not-so-serious boys—including Oliver Wentworth, the freshman boyfriend she's never forgotten. Now she's back in San Francisco with an awesome-slash-scary new job. Unfortunately, The Plan doesn't cover things like meeting her best friend's new "secret" guy...Oliver.

Fortunately, no one knows that Rachel and Oliver were ever together, and endless bikini wax torture couldn't make Rachel hurt her friend. But it's killing Rachel. She's not over him. Not even a little. And as her 10-year-plan crumbles around her, Rachel realizes that maybe—just maybe—Oliver feels the same way.

Now Rachel is on the verge of losing all control. And her best friend. And the love of her life...

Someday Maybe is a modern take on Jane Austen's Persuasion that proves a second chance at true love is always worth the risk
Reviewed by Kelly.
Rachel had a secret boyfriend (Oliver) in her freshman year in college whom she loved deeply and he wanted forever but she came with some serious issues of planning and he wasn't part of the plan. So after some time with him and her grades slipping, her plan deteriorating, her brother, Roger, finds out, she told him in one sentence good bye. He turned around and left. Neither of them were ever the same.
Six years later, her best friend finds him and is dating him and when they all go out and they see each other, neither knows what to do or say. But the chemistry is still there and so is hurt. But Rachel didn't want to hurt her friend so she let it be even though it hurts and she had no one to talk to about it. Then a new intern comes and it happens to be Oliver's sister. Could it get any worse?
So, there were many times I wanted to slap Rachel! Talk to him. Talk to anyone! What kind of life is that when you just watch your heart break more and can see, sometimes in his eyes, that maybe he still has feelings for you! But Rachel has a plan and she only sees the goal but does not see the heart of living! Dang, the boy is hot, the girl is hot, the two love each other, they have fun together and Rachel can't seem to get it! Where is the leap of faith? I almost gave up reading the book, but I really wanted Oliver to be happy. I knew he would be happy with Rachel, if only she would wake up and smell her essential oils she is all about! (Oliver loves them too)
There were sometimes I lost what was going on. When Meghan (Rachel's friend) suddenly transfers her feelings to another, there was no mention of Oliver's feelings or even Meghan's. That bugged me.
I loved the way it ended, so cute.
So, if you like a planned life goal, essential oils, stupid girls who need to wake up and smell the essential oils to get her man back, dream dissections, second chances, then this might be a story for you
3.5 stars
a Rafflecopter giveaway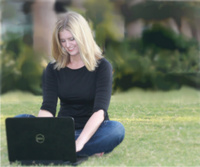 USA Today bestselling author Ophelia London was born and raised among the redwood trees in beautiful northern California. Once she was fully educated, she decided to settle in Florida, but her car broke down in Texas and she's lived in Dallas ever since. A cupcake and treadmill aficionado (obviously those things are connected), she spends her time watching arthouse movies and impossibly trashy TV, while living vicariously through the characters in the books she writes. Ophelia is the author of SOMEDAY MAYBE; DEFINITELY, MAYBE IN LOVE; ABBY ROAD; the Perfect Kisses series including: FALLING FOR HER SOLDIER, PLAYING AT LOVE, SPEAKING OF LOVE, and MAKING WAVES; and the upcoming Sugar City
Buy The Book :
Goodreads | Amazon | The Book Depository
Find The Author :
Goodreads | Website | Twitter