Follow the whole Tour HERE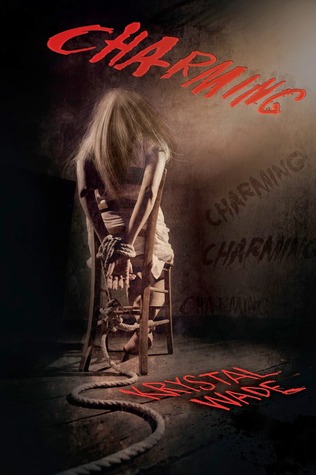 Charming
by Krystal Wade.
Audience/Genre: Young Adult, Retellings, Suspense.
Publication: October 6th 2014 by Curiosity Quills Press.
In this edge-of-your seat, tension filled retelling of Cinderella, a vengeful schizophrenic pulls sixteen-year-old Haley Tremaine into his dark world. She must make a choice: save her abusive, alcoholic father and bitter little sister and allow the only people who've treated Haley like family to die, or seek out the killer and save them all.

They say what doesn't kill you makes you stronger, and that's great . . . as long as you don't die.

Sixteen-year-old Haley Tremaine had it all: top-notch school, fantastic family, and a bright future, but all of that changed when an accident tore her family apart. Now, an alcoholic father, a bitter younger sister, and a cold headstone bearing her mother's name are all she has left.

Chris Charming has it all: a powerful CEO for a father, a prestigious school, and a fortune at his fingertips, but none of that matters when he lands a reputation as a troublemaker. Struggling to follow in his father's footsteps, he reaches out to the one person he believes truly sees him, the one person he wants: Haley.

Little do they know someone's determined to bring the two together, even if it means murder
Reviewed by Kelly.
I was literally sitting on the edge of my seat for most of this book. There was so much action, mystery mixed with a little romance. In the Acknowledge section of the book, she wrote that it was like Cinderella meets Saw (CHECK). It definitely was. All during it, when my husband and daughter tried to talk with me, I was quite rude because it was breaking my concentration!
Hailey is sister to Jocelyn and daughter to her abusive and alcoholic father. Her father became this way after he fell and lost his livelihood. He started hitting with her mother. Her mother was CEO of a company that she proud of and was kind to everyone. One night when Hailey's dad started up with his mother, Hailey and her mother left and were on their way to get Joce and move from him. Only they were met with a car accident that killed her mother. Now her dad just blames her and only is kind to Joce who doesn't know about the abuse. Joce is also mean to Hailey because she believes what her dad's verbal words are true. Hailey just takes it all and tells no one except her best friend Christine. She is afraid that if Joce finds out that then her dad would hurt her too. It is so sad. I almost gave up reading it, because it was awful.
Then there is Chris freaking Charming. He is a boy with a reputation of starting fires and being a playboy. He is always asking Hailey out and Hailey always refuses, partly because she believes she is nobody important and partly because she thinks he just is just trying to be a jerk. Joce tries to get them together and Hailey can't figure out why she would do that. Then people in the town are killed. And from there, Hailey's life becomes a nightmare.
I could tell you more but then it wouldn't be as exciting as when you read it yourself and get grossly involved in the book. The plot gets thicker and thicker. I was constantly trying to figure out who was doing all this horror to Hailey. She had enough to deal with. But Hailey didn't want to go to the police because now she was protecting than just her sister.
Don't think you can figure it out, I tried and I had some idea but was never sure. Than when it comes out it gets even more intense and you have so many questions. Then when you think it is ok, think again! And with that, I am not saying anymore.
If you like suspense, mystery, dealing and overcoming abuse, finding love after you didn't think anyone could love you, some humor amiss the terror (think Princess Bride), and then this book might be for you.
Content: strong violence with guns and physical abuse.
Excerpt...
"Come with me?" Chris pulled his face back but kept his body perfectly aligned with hers, perfectly touching.

"Where?"

"My room."

Haley took a step back. "Chris—"

"To talk, away from the watchful eyes of Deerfield's best gossipers." Chris shrugged and looked pointedly around, guiding Haley to do the same.

"Oh."

Everyone had their eyes glued to Chris and Haley, new CEO's son, former CEO's daughter. Very juicy gossip.

Keeping his fingers laced with hers, he led Haley up the deck stairs and into the two-story den. Windows spanned the length of one wall, and a fire burned in the brick fireplace. A few people sat on the sofa, close and cuddling, flirting. Chris inclined his head when they said hello, then kept walking with her up the wide, wooden staircase, along the catwalk and into his room. He led Haley through the wide open and bright space—such a clean, neat space—and to the couch in a little nook created by slants in the roof, a half-octagonal shape.

She took a seat on one of his huge, overstuffed beanbags—not childish things, but soft leather, cool at first but instantly warming. Chris grabbed a remote, pressed the power button, then tossed the thing to his bed and took a seat next to Haley as soon as the music drifted from unseen speakers.

"How do you do it?" he asked.

"Do what?" Haley played with the hem of her dress, careful not to turn into him too much and give him the wrong idea.

Chris took her hand again and placed it on top of his, then used his index fingers to draw little circles. "Anything, everything. Your mom was CEO of Berkshires; people loved you. Your mom's been away for two
years; they still love you. You attend that school—"

Haley slipped her hand free and balled it in her lap. "People don't love me there."

"I doubt that very much." Stretching out, Chris turned on his side.

"How is the school?"

"Boring." Boring and packed with bodies and not challenging enough to hold her attention. "But fine."

"Guys?"

"Are you asking me if the school has guys, or are you asking something else?"

He scooted a little closer, his body heat reaching across the few inches between them and assaulting her with desire. "Something else."
a Rafflecopter giveaway
Krystal Wade is happily married to the love of her life (don't gag) and raising three beautiful children in the gorgeous state of Virginia. They live just outside Washington, D.C., and every day she wakes up to find herself stuck in traffic trying to get there. When she's not working, commuting, or chasing after her three children (four if you count the man), you can usually find Krystal outside talking to her chickens like they're the cutest things in the world (they are), or training her amazing dogs how to herd said chickens (which they love), or curled up on the sofa with a good book (why can't that be 100% of the time?).

Buy The Book :
Goodreads | Amazon | The Book Depository
Find The Author :
Goodreads | Website | Twitter