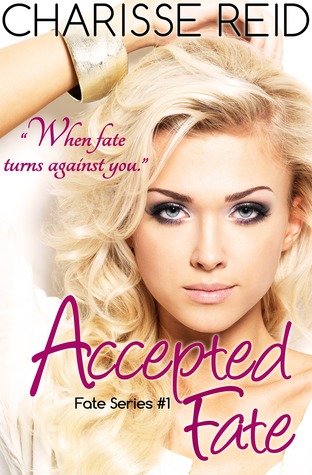 Accepted Fate (Fate #1)
by Charisse Spiers.
Audience/Genre: New Adult, Contemporary Romance.
Publication: February 25th 2014 by Charisse Spiers books.
What do you do when everything you had planned out for yourself gets changed in one summer? Do you embrace the new or fight to keep things the same?

For seventeen year old Kinzleigh everything was going just as she always planned. She had great friends, went to a school she loved, and always knew she was destined for greatness. One step already completed towards acquiring the job she has forever dreamed of, a pro football cheerleader. Nothing and no one was going to stand in her way, especially not love. What she doesn't expect is for her parents to suddenly change everything and send her spiraling into a life she didn't want for herself, especially after meeting one blue eyed boy she can't stop dreaming about. Her life is changing at every turn. She is learning that sometimes life has different plans than our own. When she finally accepts the hand fate has dealt, everything is ripped from her once again.

Can she accept the ugly fate that was chosen for her or will she fight to once again accept it.

**Note from the author: reader discretion is advised. Content is for mature readers 18+ due to some language and some sensuality or intimate scenes**
Check out this trailer (I loved it)...
Get it for 1.49 on Amazon at the time of posting HERE
Twisting Fate (Fate #2)
by Charisse Spiers.
Audience/Genre: New Adult, Contemporary Romance.
Publication: July 2nd 2014 by Charisse Spiers books.
Note from the author: Content intended for readers 18+ due to language and sexual content

Kinzleigh's life came crashing down after that tragic day leaving her in a whirlwind of despair. How do you move on from something when you have a secret no one knows; a constant reminder of something so beautiful that was taken as if it never existed?

Kinzleigh Baker was the golden girl. She never partied or gave her parents an ounce of trouble. She sure as heck didn't venture out with boys. She had hopes and dreams that could only be obtained by keeping a clear head; free from emotions that only hold you back. She had her life planned out like a book, moving forward chapter by chapter. What she didn't expect was for fate to knock her off that pedestal she has been on by throwing at her one unexpected thing after another.

Finally learning we can't always control the life we planned out for ourselves she accepted the destiny she was given and even embraced it, finding a love many people never experience in a lifetime. What happens, though, when fate laughs in your face just to drastically change it all again?

Kinzleigh has realized hopes and dreams are useless. Why even bother trying when everything always gets taken from you? The only way to abstain from hurt is to have no aspirations or expectations. After finally trying to pick up the pieces of her life and live the only way she knows how, fate gets the last move again and throws in a twist no one expected. Will she finally get the ending to her story?
Check out the trailer for book #2...
Get the Twisting Fate at Amazon HERE for $1.49 at the time of posting
I developed a passion for reading I never knew I had in November of 2012 when I decided to give eBooks a try. Since then I can't go a day without some form of a book or character running wild through my mind. For almost a year I constantly had a book pulled up on my Kindle app for my iPad. The beauty of self publishing is that you can interact with the authors, which is how I started writing. I never knew I had the creativity to write a novel until I began conversing with another Indie author. If you ever think that Indie authors don't like getting feedback from readers, you are very wrong. I began editing for a fellow author and because she took a leap of faith in me and told me to give writing a shot, I am now an Indie author myself. I cannot tell you how amazing this journey has been. It is hard putting yourself out there for the public eye with all of the reviews that come through, but it's also amazing. I have met some of the most genuine people and people I would consider friends even though I've never met them face to face. I have now published the first two books in the Fate series, Accepted Fate and Twisting Fate and I am starting book three Lasting Fate to be released November 2, 2014. I cannot wait to see where this journey takes me and feel free to interact with me here or on social media. I will respond. :)
Buy The Book :
Goodreads | Amazon | The Book Depository
Find The Author :
Goodreads | Facebook | Twitter