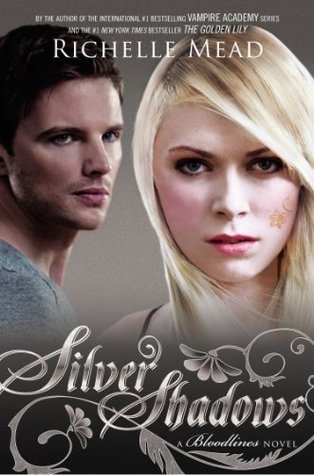 Silver Shadows (Bloodlines #5)
by Richelle Mead.
Audience/Genre: New Adult, Paranormal Romance.
Publication: July 29th 2014 by Razorbill.
Source: Purchased
Sydney Sage is an Alchemist, one of a group of humans who dabble in magic and serve to bridge the worlds of humans and vampires. They protect vampire secrets—and human lives.

In The Fiery Heart, Sydney risked everything to follow her gut, walking a dangerous line to keep her feelings hidden from the Alchemists.

Now in the aftermath of an event that ripped their world apart, Sydney and Adrian struggle to pick up the pieces and find their way back to each other. But first, they have to survive.

For Sydney, trapped and surrounded by adversaries, life becomes a daily struggle to hold on to her identity and the memories of those she loves. Meanwhile, Adrian clings to hope in the face of those who tell him Sydney is a lost cause, but the battle proves daunting as old demons and new temptations begin to seize hold of him. . . .

Their worst fears now a chilling reality, Sydney and Adrian face their darkest hour in this heart-pounding fifth installment in the New York Times bestselling Bloodlines series, where all bets are off
Reviewed by Kelly.
I have been hooked since Vampire Academy! Just sayin…
Why oh why do authors torture us with cliff hangers?? I mean I would read it anyway. I hate waiting. There is so much action and mental torture even I felt in this book.
Picking up where The Fiery Heart drops off, Sydney is in re-education or brain washing or whatever else you want to call torture and suffering. She is losing weight, she can't trust anyone and yet she still has her wits and determination about her. Eventually she makes some friends. They are all playing the game to bide their time to make it out of there. Sydney has a few tricks up her sleeve that the Alchemists don't know about; her magic. So she uses it to her advantage and starts helping others in hopes of getting herself and all the others out of that hell hole. Then when she is caught out of her room while using invisibility magic by Sheridan (the evil witch with a B), Sydney is about to face the worst possible outcome in there!
Meanwhile, Adrian has stopped taking his antidepressants so he can wield spirit and find Sidney in her dreams to get her back. But Sidney is being gassed to sleep and given little opportunity to have slept at all either. Thus, Adrian can't visit her that way. So, he is losing hope and picks up some of his old habits with alcohol. So when Sydney has figured out how to keep the gas out of their room and she dreams, Adrian doesn't come to her. I was so furious with Adrian. But, with stopping the meds, his dark side comes out. Now he hears his Aunt Tatiana in his head.
When Adrian does come to his senses and finds Sydney in her dreams, it is a race against time. Time to get her out, time to stop the tortures and brainwashing or worse! There are no windows and no one seems to know where the place is.
There are twists and turns and magic and stupidity and hope, despair, families who despise you, prejudice, and just when you think it may be okay- think again because something is always there to shake things up!
Buy The Book :
Goodreads | Amazon | The Book Depository
Find The Author :
Goodreads | Website | Twitter