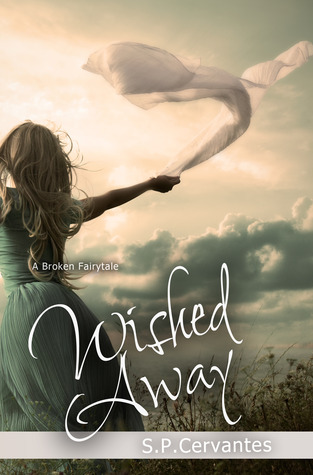 Wished Away (A Broken Fairy Tale #2)
by S.P Cervantes.
Audience/Genre: Adult, Contemporary Romance.
Publication: August 5th 2014 by S.P. Cervantes.
Imagine that you were married to the love of your life and had a happy family. Now imagine everything was destroyed in an instant, making you question who you are and how you can possibly go on once the one person you truly love is gone.

It is a rare thing to find your soul mate, but Jess found true love in Dave when they were only teenagers. They've built a happy life together in a small shore town, becoming pillars of the community and making everyone around them envious of the seemingly perfect life they have built together. Jess has always been the life of the party, and Dave was always there to reel her in and keep her safe. But one night, while on duty as the town Sheriff, the unimaginable happens, altering the directions of their lives forever.

This is a story about finding love, having it all taken away, and discovering that moving on doesn't mean forgetting the past.

**DUST TO DUST is the first book of the series and introduces you to the close relationships these five friends have with each other. This is the second book of the series, but can be read as a stand alone.
Excerpt...
I don't know how long I sit there in Dave's arms before I finally lift my head and look into his compassionate brown eyes. "I don't know how I can go on without them. I'm afraid I'll forget them, forget what they'd look like, what they smell like, what their hugs and kisses feel like. All I've been doing is sitting here wishing that I could've done something to keep them from going out to dinner that night. I keep wishing that I'd told them how much I loved them before they left instead of yelling at them for not letting me sleep over at Cam's. I keep wishing that God didn't take them, that it was me instead. I wish..."

Dave takes my shaking hand in his. "You can't wish it all away Jess, as much as you want to you can't. If I could wish away your pain I would. I would do anything not to see you this way. Your parents wouldn't want you beating yourself up this way. They loved you more than anything in this world and they knew how much you loved them, even when you were a brat." He taps his finger on the tip of my nose and wipes the tears away with a swipe of his thumb across my cheek and continues, "As time passes, you may forget their smell or their touch but they'll always know you love them, even when you move on with your life and have your own family."

He reaches into his pocket and takes out a smooth heart shaped rock and hands it to me. "Anytime they seem too far away, take this rock and remember us on this beach. Remember me telling you that it's ok to move on with your life, to love, to grow, to miss. Let it remind you that it's the darkness that leads you to the light, and you deserve the light."

I take the silky stone in my hand and look up him grateful that he's here with me now. Every time I'm with him, there is no place I'd rather be. He's always made me feel safe and loved, and for the first time I'm ready to admit he is no longer Dave my best friend, and I know he feels the same when he laces his fingers through mine. "How about we head back to the house now, I'm sure everyone's looking for you."

He helps me to my feet and my body presses up against his, causing him to draw in a deep breath and close his eyes. He gently brushes my unruly blond hair from my face and holds his warm hand on my cheek. I don't know what to say or do, my heart is racing but filling with guilt that all I can do right now is wish he'd kiss me and take the misery I'm feeling away. As if he's reading my thoughts, he places his other hand on my face and smiles a sad smile, leans down and places a soft, innocent kiss on my lips. My knees go weak as shocks of pleasure flood through me, wanting so much more than I know he's going to give me. He pulls back far too soon and looks back down at me, pressing his head against mine. "Bad timing I know, but I've wanted to do that since we were six."

We both smile, my only thought was me too.

I look him in his sincere eyes knowing there'll never be another man in my life after this moment. "It was perfect timing. I need you now Dave, you always make me feel cared for. You, Cam, Joey, Holden, I can't leave you guys and go live with my aunt. I just can't. I feel so lost Dave."

Dave wipes the tears away and tilts my head up to meet his lips, he leans down, brushing his lips across mine. The soft way he presses his mouth to mine leaves me unable to think of anything but him. I silently beg for more, twisting my fingers through his hair.

He whispers through our kiss, "I will always find you Jess. Always."

We walk back hand in hand to Camryn's house where the guests are mourning my parents, and from that day on, Dave has never let me go. He is my prince in shining armor chasing away my demons. Whenever he is close, I always feel loved, I always feel cherished. I can't imagine life without him and am glad I never have to, because without him, I'd be lost again.

a Rafflecopter giveaway
S.P Cervantes lives in Orange County, California with her husband and three children, where she is a teacher. She enjoys spending time with her family, writing, reading, and running, but is always thinking of an idea for her next novel.

S.P. Cervantes is the author of the highly rated New Adult Romantic Fantasy series Secrets of Shadow Hill. "Always and Forever" and "The Prophecy" are the first two books in the series and are available now. The third book in the series, "War of Wizards" released on May 27, 2014.

S.P. Cervantes also has a contemporary romance series, A Broken Fairy Tale, in with the first book of the series, "Dust to Dust (A Broken Fairy Tale)" released March 4, 2014.

Buy The Book :
Goodreads | Amazon | The Book Depository
Find The Author :
Goodreads | Website | Twitter