Love Bites (Sugar City)
by Ophelia London.
Audience/Genre: Adult, Contemporary Romance.
Publication: August 18th 2014 by Entangled Bliss.
Falling in love is like swimming with sharks…

Sharona Blaire is only in Australia for a business audit, but she's determined to make the most of her one free night. So when she spills her drink on a handsome stranger and they end up flirting, she does something completely out of character—she kisses him. But the prospect of taking it further totally freaks her out…almost as much as discovering the next morning that the man she's auditing is the sexy, tanned stranger she left with zero explanation.

An audit during his crew's most important expedition yet is a complication marine biologist Jeff Cruz doesn't need—especially when the auditor is the gorgeous, fascinating woman from the night before. Out at sea with nowhere to run, he's forced to admit Sharona draws him in like a shark to blood. But Jeff's one passion is his job, and nothing—not even love—will get its hooks in him..
Reviewed by Kelly.
This is a story of 2 people once bitten and twice shy, so to speak! Sharona and Jeff both have been burned and are skittish with relationships. They are both passionate about what they do; which is that Sharona is an accountant who has passion in what she does and genuinely wants to help people. Jeff is a Discovery Channel shark man with passion for learning more about sharks. He comes complete with real life shark bite scars.
When Sharona drops her tomato juice laden drink on Jeff while in the airplane to Australia, she is mortified. When she does it again on land by accident (again), she is humiliated. Then she finds herself kissing him first at the hotel they both happen to be at and then she almost makes it to his room but tells him she will be right back. She then gets cold feet and never returns. So when she sees that he is the same man who she is here for auditing the next morning again she is mortified. She owes him an explanation.
Jeff is trying to get back his trackers for his research project. Sharona only hears that they harpoon tags in the sharks. She learns later that he has found a way to put on the tracker without physically penetrating the shark. This is his secret for now; he isn't ready to share it with the world. He also isn't ready for the overwhelming chemistry that Sharona and he share.
While learning about sharks, Sharona finds that there is little information about some of the sharks mating rituals. They give what he called love bites. They are very rough and physical and scars are left from it. So in a moment of passion on the ship, she gives him a "love bite".
Then at the end of the day trip and returning to shore, Jeff believes something a reporter said about Sharona and sends her on her way without even asking if what he heard was true. Sharona and Jeff are left heartbroken. So if you want to know how that misunderstanding gets fixed you will have to read it yourself.
The only thing that I didn't like was that it took a while for me to get into the book.
Now, if you will excuse me, I am going to give my husband a love bite!
LOVE BITES – playlist guest post
Ophelia London
Hi there!  I'd love to take a few minutes to talk about my new novella LOVE BITES, and part of my creative process. Music has always been a huge influence in my novel writing. One of the first things I do when I'm starting a new story is make a playlist. Of course it evolves over time—much like how the story and characters develop—but hearing those songs always keep me in the writing frame of mine, even when I'm not writing. Here's a peak at some of the songs from the LOVE BITES playlist.
"
Wicked Way
" by Benjamin Taylor – Yeah, this song is so amazing because the singer gets right down to business. I can easily see these lyrics running through Jeff's mind when he first sees Sharona at the hotel bar.
"I just wanna take you out and get you drunk so I can have my wicked way with you…So don't fight it, don't knock it 'til you've tried it, show me some skin, I might bite it…"
"
Love Bites
" by Def Leppard – I mean, how could I not include this? So many lyrical layers of deliciousness and it goes perfectly with this sharky love story!
"
Who Knows?
" by Natasha Bedingfield - I stumbled upon this song a few months ago (thank you, Spotify!) and thought it fit so well with how Sharona might be feeling at the very beginning of the story. She's trying to convince herself to have a one night stand with a sexy strange she meets in a bar. I loved the song so much that it's in the LOVE BITES book trailer. Check it out!
https://www.youtube.com/watch?v=YXuE5NE6C5g
"
My Sharona
" by The Knack – Not only is this an awesome song with loads of vivid imagery, but Sharona is also the name of the heroine of LOVE BITES. Also, it's a pretty good make-out song. And there's making-out-a-plenty in LOVE BITES.
"Keeping it a mystery gets to me, Running down the length of my thighs, Sharona…"
"
Waltzing Matilda
" traditional – With the book set in Australia, I wanted to include this sweet, folk song that always makes me think of Oz. "Matilda" is also one of Jeff's shark pals. Sharona gets to know Matilda a little too well….
Too view the entire LOVE BITES playlist, check out the music tab on my website!
http://www.ophelialondon.com/p/falling-for-her-soldier-srchttpsembed.html
Happy reading, everyone! And never be afraid to swim with the sharks. Heehee  Oh, and don't forget to enter my rafflecopter for some awesome prices. Cheers!
a Rafflecopter giveaway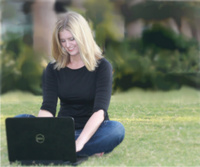 USA Today Bestselling author Ophelia London was born and raised among the redwood trees in beautiful northern California. Once she was fully educated, she decided to settle in Florida, but her car broke down in Texas and she's lived in Dallas ever since. A cupcake and treadmill aficionado (obviously those things are connected), she spends her time watching arthouse movies and impossibly trashy TV, while living vicariously through the characters in the books she writes. Ophelia is the author of DEFINITELY, MAYBE IN LOVE, ABBY ROAD, the Perfect Kisses series including: FALLING FOR HER SOLDIER, MAKING WAVES, PLAYING AT LOVE, and SPEAKING OF LOVE. Visit her at www.ophelialondon.com. But don't call when The Vampire Diaries is on.

Buy The Book :
Goodreads | Amazon | The Book Depository
Find The Author :
Goodreads | Website | Twitter