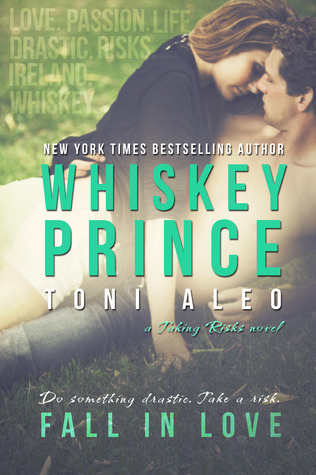 Whiskey Prince (Taking Risks #1)
by Toni Aleo.
Audience/Genre: New Adult, Contemporary Romance.
Publication: July 12th 2014 by Toni Aleo.
Take a risk.
Do something drastic.
Fall in love.

When Amberlyn Reilly loses her mother, her whole world comes crashing down. Having been caretaker to her for most of her teenage years, Amberlyn is inexperienced in many aspects of life. She hasn't had time to live, have fun, or enjoy even the little things. It's only when a letter from her mother, asking her to fulfill three things, sends her off to Ireland to live a life she never thought possible that she begins to heal.

Declan O'Callaghan was born and raised in Ireland and has his family's legendary whiskey in his veins. He's shy and not a fan of the pressure and spotlight that comes with his family name, or the title he was given at birth—the Whiskey Prince. Declan knows just what he wants and that is to take over the family dynasty, but when his father gives him an ultimatum, everything he's worked for could come undone in the blink of an eye.

With six months to get married, the reclusive Declan spots Amberlyn across a lake and instantly feels the need to know her. Soon, the two find themselves traveling down a path neither expected. However, like any road, there are bumps and side streets to derail them. Can Declan help find the pieces that will make Amberlyn whole again? And will Amberlyn stay or run when she learns of Declan's deadline of marriage?
Toni Aleo will be attending Chapter by Chapter Book Rave in NY on September 20th! Over a 100+ authors signing! Check it out!

www.cbcevent.com

Giveaway Is International
a Rafflecopter giveaway
Toni Aleo is the author of the Nasvhille Assassins series: Taking Shots, Trying to Score, Empty Net, Falling for the Backup, and Blue Lines.
When not rooting for her beloved Nashville Predators, she's probably going to her husband's and son's hockey games and her daughter's dance competitions, taking pictures, scrapbooking, or reading the latest romance novel.
She lives in the Nashville area with her husband, two children, and a bulldog.
Buy The Book :
Goodreads | Amazon | The Book Depository
Find The Author :
Goodreads | Website | Twitter