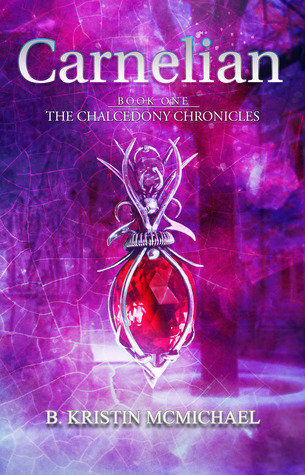 Carnelian (Chalcedony Chronicles #1)
by B. Kristin McMichael.
Audience/Genre: Young Adult, Time Travel.
Publication: February 1st 2014 by Lexia Press .
Everyone has a past, but for most it isn't as long ago as Seth Sangre. His past is literally thousands of years ago. Seth's life led him to the present seeking something that might help him save his country from destruction. He has been in the present for over three years now and just found exactly what he has been looking for.

Mari had dreams that college will be a fresh start, one where she would start over and not fall for the good looking player like high school. Unfortunately for her, that's exactly what ends up falling into her lap on the first day she moves into the dorms. Now she has to hold to her promise to herself and not fall for the handsome Seth. But he doesn't plan to make it easy for her. Seth has already marked her as his next conquest. As the semester progresses, Mari learns that Seth might just have a life of his own that's actually from the past. Suddenly Mari finds her future along with her past put into question. She's connected to Seth far more than she ever wanted to be and maybe the player isn't who she thought he was. If Mari can trust her heart enough to follow him, Seth will lead Mari on an adventure of a lifetime and reveal family secrets she never knew existed
Reviewed by Kelly.
I don't know why I loved this book. It doesn't fit my pattern. Let me explain:
1- I don't like insta love. He hadn't even talked to her, yet seemed smitten by her. Perhaps it was because she wasn't having it. She thought him to be a player. She was smart and not in the "Barbie" club. You know the girls who are perfectly dressed and makeup and hair Hollywood style. So, she tried to push him away. She wasn't stupid, she saw how handsome he was, she was attracted to him. She just didn't play games. She was just starting college and knew no one. Eventually, she came around. So maybe that's why it overran my dislike of insta love.
2- I like mythology and I don't like it. It can be so complicated knowing what god did this or that. I have to concentrate to keep up. But this was simple. Only one goddess.
3- I don't like slavery. But Ty lives out his life happy here in this time
4- I don't like cliffhangers. Well, this one was one anyway, and then the chapter for the next book didn't help. Yep, I hate them and I still have to wait.
5- I don't like betrayal. Well, I was wrong about that one. Nope, not going to explain that one. It would spoil the book.
6- I don't like time travel. It is confusing at best. But this one is perfect since the life styles are extremely different with different classes and a different way of life. I am happy here with my air-conditioning and no guy could make me change my mind. LOL
Anyway, the book has twists and turns. I loved it. It's a clean read. I love the characters!
I am just intrigued by the whole story. It is a fresh and different take. I need the next book like now.
Buy The Book :
Goodreads | Amazon | The Book Depository
Find The Author :
Goodreads | Website | Twitter