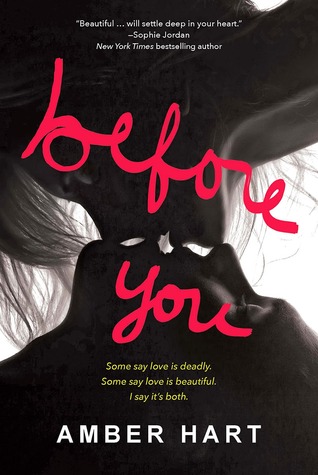 Before You (Before & After #1)
by Amber Hart.
Audience/Genre: Young Adult.
Publication: July 29th 2014 by K-Teen.
Some say love is deadly. Some say love is beautiful. I say it is both.

Faith Watters spent her junior year traveling the world, studying in exquisite places, before returning to Oviedo High School. From the outside her life is picture-perfect. Captain of the dance team. Popular. Happy. Too bad it's all a lie.

It will haunt me. It will claim me. It will shatter me. And I don't care.

Eighteen-year-old Diego Alvarez hates his new life in the States, but staying in Cuba is not an option. Covered in tattoos and scars, Diego doesn't stand a chance of fitting in. Nor does he want to. His only concern is staying hidden from his past—a past, which if it were to surface, would cost him everything. Including his life.

At Oviedo High School, it seems that Faith Watters and Diego Alvarez do not belong together. But fate is as tricky as it is lovely. Freedom with no restraint is what they long for. What they get is something different entirely.

Love—it will ruin you and save you, both.
Reviewed by Kelly.
There is so much to say about this book. There are secrets, there are expectations, there are fake smiles, there is a sort of trying to please people, there are trying to overcome almost insurmountable odds to live a normal life, and then there is trying to find someone to love who you really are.
My first thought was the movie "West Side Story". I had forgotten about that movie until I read the book.
Faith is a preacher's daughter. Her mother ran out on them, abandaned them. Her mother got into drugs. Her father is now remarried and has a little girl named Grace who Faith adores. Faith has a secret too. For a year she was gone. Everyone at school, including her football boyfriend, believed she was off on a mission. But Faith was hurt by her mother leaving and wanted to know what is was like to be in her shoes. Faith has another side of her outside her home that only her friend Melissa sees. That Faith is fun and feisty. But the Faith at home and in public dresses to please her dad by wearing modest clothing that is maybe more frumpy than modest, She doesn't want to hurt her dad's position at church. So she just lives and does what she must, but she is not really living at all.
Then in comes Diego. He has lived in survival mode. Doing what he could to help his family survive in Cuba, which meant being part of a Drug Cartel. He chose to be a body guard not wanting to sell the stuff. But even that life had its consequences and Diego and his father ran to the US to try and find a better life. But it is hard to run from evil and it evil will find you again. Diego has scars and tattoos as a reminder of that life. He loves his family and is close with his cousin. He tries to just be a normal senior. But the M13 gang wants to recruit him and he doesn't want anything to do with it and fights them to leave him alone.
When Faith and Diego meet there is an attraction. Even though Faith has a boyfriend and Diego wants to ignore her neither can fight it for long. Faith is just living the life everyone expects of her. I get that. Some people live their lives to please others and aren't really living. I was that way in high school. I tried to do things that would please my parents. It really wasn't what I wanted. Diego's family is shocked to see when the two get together, not in a bad way. Just unexpected. Here is where I have seen other reviews condemn the book because of what Diego and others say in the book is prejudice. If you live in a community that thinks one way that is what you know. You have to be the one to change it. It made me think afterwards. Life is too short to worry about what others think, I learned that too. I am Caucasian and my daughter married a Peruvian. I don't see anything but two happy people married to each other. So, I was taken back when the book made a point of races between the two. I NEVER ONCE thought of my son in law as different from me. He just had a nice tan! I want a nice tan! LOL. What I see is that Faith and Diego move on and do what is in their hearts and become a couple.
Then the prejudice and hate from others come in and makes it difficult. They both get hurt often and tragedy strikes. But, Faith keeps going and helps others. What a sacrifice she makes for the benefit of others and not herself. She learns to live. Isn't that what life is really about, to be happy and help others?!?
Buy The Book :
Goodreads | Amazon | The Book Depository
Find The Author :
Goodreads | Website | Twitter