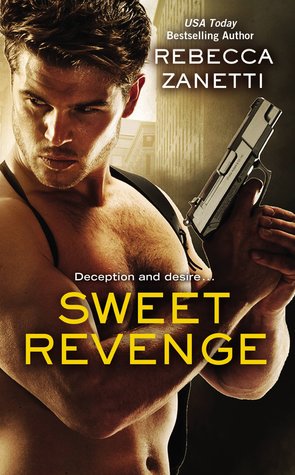 Sweet Revenge (Sin Brothers #2)
by Rebecca Zanetti.
Audience/Genre: Adult, Paranormal, Suspense.
Publication: December 3rd 2013 by Forever.
The One Man She Can't Have

Matt Dean was born to fight…and kill. A member of a secret black-ops military unit, he and his brothers were genetically engineered by the government to be the perfect soldiers with an expiration date. Now, with time running out, he's gone rogue in a relentless quest for the one person who can save them. His mission leads him to Charmed, Idaho…and to a beautiful woman with eyes like emeralds and a body made for pleasure.

The One Woman He Can't Resist

Laney Jacobs knows the mysterious, handsome stranger is trouble from the moment he walks into her bar, looking for a job. She's spent years running from her own past—the last thing she needs is a romantic entanglement. But Matt's strong arms offer her protection, and his gentle touch promises passion unlike anything she's ever known. As lethal forces surround them, revealing explosive secrets about Matt's past and putting everything—and everyone—he holds dear in danger, can he save them all before time runs out?
Reviewed by Kelly.
Okay people, I don't have time to write a review. I need to go start Nate's story now! Because Holy Hotness Batman, this series just keeps getting better and better. If you are looking for hot guys, great plots and subplots, twists and turns, kick butt females who want to protect their man, military, fighting for freedom and good vs. evil, and then this series is for you!
I thought I knew where the story was going and I was so wrong!! It just kept getting deeper and deeper down the rabbit hole. Or even if you take the red pill or the blue one it would still be the reality of the Dean Brothers.
This one is Matt's story. He went after the doc who may have implanted the chips into him and his brothers that will kill them in 6 weeks if it isn't cancelled and removed correctly. What he finds though is Laney, an owner of a bar, who he can't seem to keep his hands off of and he keeps slipping with his job as he gets in deep with Laney. Time is running out and he knows it is only a matter of time before the commander catches up to them and either kills them, takes them back under his command or lets the chips detonate, which is not an option for him or his brothers.
Then to make matters worse- a serial killer is out and kills one female in this small town. Then he sends notes to Laney. She is next. But Laney is hiding a secret.
But if you think for one minute you have any answers; boom- it twists again and again. Yep several twists and I found myself getting out of my chair reading faster and faster as everything comes to a head. I wasn't sure how this would end.
This story is incredible. Even if you took out the hot military brothers, Ms. Zanetti writes a wicked story keeping you on your toes till the very end. Adding the military brothers who have enhanced senses, exquisite bodies, a right vs. wrong understanding, and a love story in it just makes it fantastic. So, okay gotta go now and read Nate's story because the ending is a cliffhanger and I want the commander taken out now!
New York Times and USA Today Bestselling Author Rebecca Zanetti has worked as an art curator, Senate aide, lawyer, college professor, and a hearing examiner - only to culminate it all in stories about Alpha males and the women who claim them. She writes dark paranormals, romantic suspense, and sexy contemporary romances
Buy The Book :
Goodreads | Amazon | The Book Depository
Find The Author :
Goodreads | Website | Twitter