Follow The Tour HERE
Missing Lily
by Annette K. Larsen.
Audience/Genre: Romance, Clean Romance.
Publication: May 15th 2014 by Hidden Falls Publishing.
"You don't know who I am," I whispered. He didn't move—either away from me, or closer—and after an interminable moment, I stepped back and hurried out of the house.

He didn't follow me as I fled into the night.

Lylin is not used to being alone—much less alone, hurt, and lost. So when she is separated from her guard and forced to abandon her horse, she counts herself lucky to stumble upon a manor house. Still frightened by those who chased her into the night, she keeps her identity a secret, calling herself Lily as she accepts the help of kind servants and the compassion of Lord Fallon. When they fall into an easy friendship, she wonders if her secrecy was too hasty. However, as she gets to know the manor and its residents, Lylin discovers that she's not the only one hiding secrets, and it may be a very good thing that her host doesn't know her true identity as a member of the royal family.
Reviewed by Kelly.
I loved loved loved this book. It seems these times were simpler times. You were reserved, polite and genuinely tried to find purpose. Sometimes though, your mouth won't work in telling how you feel because it may be inappropriate. And that leads to hurt and sometimes worse.
Missing Lily picks up a few years after Just Ella left off. You don't have to read that book first to enjoy this one at all but it was nice to see these characters years later.
Lilyn is the youngest sister of many in the royal family. So she never thought she would have to worry that she would be queen one day, but one by one her sisters chose different paths and it was kind of left to her. She doesn't want it but seems to know that is what will be.
She is out with her guard Nathanial and they are over taken with some who appeared to want to hurt her. So when her guard tells her to go she flees on her horse. She is smart and purposely gets off and lets her horse go on hoping that the one rider who went after her would chase the horse and give her time to escape. She has hurt herself. She wanders and crawls over the wall to Lord Fallon's place. She is afraid and doesn't know who to trust. Lord Fallon finds her wounded and frightened in the stalls and takes her in and cares for her and the staff cares for her. They know her as Lily. Since no one knew her, she was unsure who to trust so she gave a false name. Lord Fallon is a kind man who is a bit of a recluse. We find out why later but he seems taken with her. The staff and Lord Fallon work well together and he seems to have an informal relationship with them and they respect each other. Lilyn aka Lily finally feels safe but doesn't know if or how to tell them who she is. But she is stuck there do to the storm and some flooding. She worries about her family missing her and worrying about her.
When the guards show up looking for her, she runs off without saying goodbye.
Back at home, she finds her sister (Who to me is a little snobbish) letting her parents arrange her marriage. I am sure you can guess who that is. So when Lord Fallon comes to the court and sees who Lilyn really is, he is a little shocked. And now Lilyn has to watch him court his sister. (I don't know if I could idly stand by and do nothing). Both Lilyn's older sister Ella and her guard Nathaniel know her feelings. Then we get a little tension with Lord Fallon's brother who is not a nice, kind or any good virtue in him man! He comes to the palace and that's where the story really gets going. Because apparently, Lilyn's sister loves this man and he loves her. So we have 4 people that aren't happy and none has voiced their concerns.
So I thought okay somehow it will all come out and all will be right with the world, the end. But no, there was much more to the story. There is action, fighting, arrows, stitches, Balls, horse riding, thoughts of revenge, unconditional brotherly love, confessions of love, love that cannot be, sorrow and happiness.
This is a wonderful clean story that is fun and just makes you feel good inside. I hope she has another book so I can see what happens to Lorraina (Lylin's sister)
An Excerpt for You..
I found a cloak in the wardrobe and put it on, then quietly unlatched the door, hoping to leave without anyone's notice.
Rhys sat on the floor, leaning against the wall opposite my door, sleeping. It broke my heart to see him there, obviously waiting for me to come out. But with any luck, he wouldn't discover my departure until later. I slipped through the door and crept past him, trying to keep my breath quiet even with my nerves jumping every which way. I reached the top of the stairs before his voice stopped me.
"Where are you going?"
I looked back. His head still rested against the wall, but his eyes were fixed on me.
I faced the stairs again, contemplating running down them. I cleared my throat. "I'm just going for a walk outside to clear my head." My foot stepped down.
"The sun is down." Confusion infused his voice as he stood to follow.
My pace increased. "I won't be gone long."
He grabbed my arm, stopping me. "What has you so upset?"
I tried to hold his gaze He hated me, even if he didn't know it. "I'm just…worried."
"That's not it." How could he know such a thing? "There's something else."
I tried to invent a lie, but my thoughts wouldn't cooperate. He moved closer to me, making my neck grow hot. I swallowed, desperately searching for something to say, or even something to focus on besides the warmth spreading through me. I ignored it. I didn't know this man, he may very well be a traitor, a conspirator. But all I could feel was his proximity.
"Won't you tell me?" he pled. I made myself look at him and his eyes delved into mine, searching for any clue to explain my behavior.
I closed my eyes, whispering, "I can't."
"Please?"
I opened my eyes at his pleading tone, then opened my mouth, trying to say something. His eyes locked on my parted lips and I stopped trying to talk. He lowered his head, glancing at my eyes before refocusing on my mouth and moving closer. He was going to kiss me. Half of me wanted it, desperately. The other half was terrified. It was all wrong. This was wrong. He was wrong.
I turned my face away and he froze.
"You don't know who I am," I whispered. He didn't move—either away from me, or closer—and after an interminable moment, I stepped back and hurried out of the house.
He didn't follow me as I fled into the night.

Blog Tour Giveaway
$25 Amazon Gift Card or Paypal Cash
Ends 6/15/14
Open only to those who can legally enter, receive and use an Amazon.com Gift Code or Paypal Cash. Winning Entry will be verified prior to prize being awarded. No purchase necessary. You must be 18 or older to enter or have your parent enter for you. The winner will be chosen by rafflecopter and announced here as well as emailed and will have 48 hours to respond or a new winner will be chosen. This giveaway is in no way associated with Facebook, Twitter, Rafflecopter or any other entity unless otherwise specified. The number of eligible entries received determines the odds of winning. Giveaway was organized by Kathy from
I Am A Reader
and sponsored by the author. VOID WHERE PROHIBITED BY LAW.
a Rafflecopter giveaway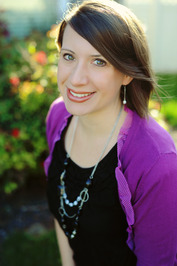 I was born in Utah, part of a crazy, fun family of nine. I grew up in Flagstaff, AZ and St. Louis, MO before striking out on my own college adventure in Virginia. I decided to try my hand at writing novels after I was married and living in Idaho. I write clean romance because it's my favorite genre, but often difficult to find.

I have Charlotte Bronte to thank for the courage to write novels. After being bombarded with assigned reading about women who justified abandoning either their families or their principles in the name of love, I had the great fortune of reading Jane Eyre. And that was it: finally a heroine who understood that being moral and making the right choice was hard, and sometimes it hurt, but it was still worth it. After rereading it several years later, I realized that if I wanted more books to exist with the kinds of heroines I admired, then I might as well write a few myself. My books are about women who face hard choices, who face pain and rejection and often have to sacrifice what they want for what is right. The consequences are often difficult or unpleasant, but it the end, doing what's right will always be worth it.

I believe there is no substitute for good writing or good chocolate. Fortunately, one often leads to the other.
Buy The Book :
Goodreads | Amazon | The Book Depository
Find The Author :
Goodreads | Website | Twitter