Tease (The Ivy Chronicles #2)
by Sophie Jordan.
Audience/Genre: New Adult, Contemporary Romance.
Publication: May 27th 2014 by William Morrow Paperbacks.
What happens when a girl who always calls the shots meets a guy who's too wild for even her?

A born flirt and good-time party girl, Emerson has never had a problem finding a willing guy. She's always chosen her hookups carefully, and she's never broken her three cardinal rules:

Never let them see the real you.
Never fall in love.
Always leave them begging for more.

Then Shaw comes along. A hottie from the wrong side of the tracks, he's immune to her flirtatious banter and come-hither smile. After rescuing her from a disastrous night at a biker bar, he doesn't even try to take her to bed—he calls her a tease and sends her home instead. Unable to resist a challenge, or forget the sexy, dark-eyed, bad-boy biker, she vows to bring him to his knees.

But instead of making Shaw beg, Emerson finds herself craving him. For the first time in her life, she's throwing out her rule book. Suddenly, she's the one panting for a guy she can't control—a guy who won't settle for anything less than the real Emerson and who forces her to do things she's never imagined, including facing a past she thought she'd buried.

A guy who just might leave her wanting more. . . .
Reviewed by Kelly.
First, thanks to Harper Collins Publishing for the Arc to review in exchange for an honest review.
This is the second book in "the ivy chronicles" series. This book focuses on Emerson. Emerson is a tease and a flirt. She just makes herself look like she gives herself to everyone and anyone. She never dates. Guys are just toys to her. She keeps herself distanced from everyone. She has never really let her walls down to anyone. Her family is strained. Her parents are divorced. Her dad is busy and rich and sends her money but not her time. Her mother is always judging and seems to prefer her stepson over her.
We first see her with a stupid friend and others going to this biker bar that really is not for the likes of a rich girl like her. They are there to see a band play. Emerson looks around and sees this hot biker dude watching her. Then one biker dude tries to hit on her and she isn't having it and she might just also be a little drunk. Anyway, she pours the rest of the beer down the front of his pants. That just leads to a bar brawl .Her supposed friends ditched her and blamed her for starting the fight and getting them a little bruised up in the process. Emerson is carried out of the bar by the hot biker dude. She is stuck with no way home. I can't remember why but none of her friends are available. So when the guy offers her a ride home, she really has no choice but to accept. In the morning, she finds herself in just her bra and panties in someone's bed. She panics wondering what happened the night before. But hot biker dude, aka Shaw, is an honorable guy and just put her in his bed while he slept on the couch because she passed out and wasn't able to tell him where she lived.
There is some major chemistry between them and Shaw goes after her. Emerson isn't having it. She is affected by all his hotness but just can't bring her walls down. Shaw seems to see right through her. He is relentless and as much as Emerson pushes, Shaw pushes right back.
Emerson has a messed up family and something happened to her when she was little. You don't know what it is but you have some idea. That is what keeps her walls built because if your family doesn't have your back and doesn't love you unconditionally who wouldn't keep their walls up to protect their heart from further damage. That is the ultimate betrayal. I immediately disliked her mom from her first mentions in the book.
But Emerson has Pepper, Georgia and Suzanne to be there for her. Emerson hasn't shared everything about her life with them. Shaw has own story too.
Eventually, it becomes a strain to keep pushing at each other and Emerson and Shaw get hurt. But when it becomes too much Shaw walks away, if Emerson wants it she has to get it!
There are some intense scenes, a kink house (I am not even going into that one), Marines, family, Marine who lost his life, abuse, and trying to find your own way and learn to love.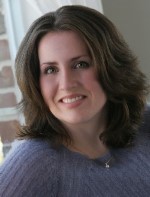 Sophie Jordan took her adolescent daydreaming one step further and penned her first historical romance in the back of her high school Spanish class. This passion led her to pursue a degree in English and History.

A brief stint in law school taught her that case law was not nearly as interesting as literature - teaching English seemed the natural recourse. After several years teaching high school students to love Antigone, Sophie resigned with the birth of her first child and decided it was time to pursue the long-held dream of writing.

In less than three years, her first book, Once Upon A Wedding Night, a 2006 Romantic Times Reviewers' Choice Nominee for Best First Historical, hit book shelves. Her second novel, Too Wicked To Tame, released in March 2007 with a bang, landing on the USA Today Bestseller's List
Buy The Book :
Goodreads | Amazon | The Book Depository
Find The Author :
Goodreads | Website | Twitter