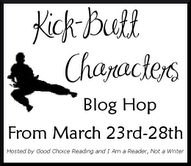 Hello! :) Welcome to the Kick-Butt Characters Blog Hop Giveaway! This is hosted by Good Choice Reading &
I Am A Reader, Not A Writer
.
The dates for this hop are March 23rd - 28th.
Terms & Conditions :
• Prize : ONE book from the series listed below.
• If the book youv've picked hasn't released yet, I will pre-order it for you (as long pre-order's available) and you will get it once it's published.
• Open World Wide as long as The Book Depository ships to you.
• Winner has 48 hours to respond or a new winner will be chosen.

These are the mini series banners of most of the series from the list, I've posted them to help you identify the series. Go through the list below the banners to make sure you know all your options.
The List. (You can pick ONE book from the series listed below.)
Vampire Academy by Richelle Mead.
Bloodlines by Richelle Mead.
Wings by Aprillynne Pike.
Razorland by Ann Aguirre.
The Mortal Instruments by Cassandra Clare.
The Infernal Devices by Cassandra Clare.
Hush,Hush by Becca Fitzpatrick.
Fallen by Lauren Kate.
The Hunger Games by Suzzane Collins.
Caster Chronicles by Kami Garcia.
Darkest Powers by Kelley Armstrong.
Matched by Ally Condie.
The Morganville Vampires by Rachel Caine.
Divergent by Veronica Roth.
Shadow Falls by C.C. Hunter.
Hourglass by Myra McEntire.
Firelight by Sophie Jordan.
The Demon Trappers by Jana Oliver.
Significance by Shelly Crane.
Lux by Jennifer L. Armentrout.
Covenant by Jennifer L. Armentrout.
Embrace/The Violet Eden Chapters by Jessica Shirvington.
Angelfire by Courney Allison Moulton.
Trylle Trilogy by Amanda Hocking.
Strange Angels by Lili St. Crow.
Soul Screamers by Rachel Vincent.
House Of Night by P.C. Cast.
a Rafflecopter giveaway
To check out the other blogs participating in the hop, click here!